As the vaccines were becoming available … I knew there were many students, including from the Fielding School, who were at home during the pandemic and would be excited to help.

---
ALTHOUGH BOTH EARNED DEGREES at the UCLA Fielding School of Public Health, Edith Hernandez (MPH '15) and Chelsea Shover (PhD '18) hadn't met prior to one Sunday in late February 2021, when their paths crossed at a vaccination clinic held by Clínica Romero at the Mexican Consulate in Los Angeles. Hernandez was the public health manager for Clínica Romero, a federally qualified health center (FQHC) serving a largely Latino, uninsured population in greater Los Angeles. Clínica Romero was among the first FQHCs to receive significant quantities of the COVID-19 vaccines, and Hernandez was charged with ensuring that the potentially life-saving shots reached populations that didn't readily access the healthcare system.
At the Mexican Consulate, Hernandez was introduced to Shover, an epidemiologist who had come to lend volunteer support for Clínica Romero's vaccination efforts that day. Hernandez quickly learned that Shover had the ability to tap into a network of potential volunteers at UCLA, including students and faculty at the UCLA Fielding School.
Hernandez had a vaccine event the following Friday in Palmdale, 70 miles north, aiming to draw a particularly hard-to-reach group: the area's farmworkers. And she needed volunteers — lots of them — stat.
"I told Chelsea we needed as many as we could get," Hernandez recalls. "It was going to be a little chaotic, and we knew that with more volunteers it would make for much shorter lines and a much smoother process."
Using UCLA listservs and her own network of friends and colleagues, Shover sent the word out for both clinical and non-clinical volunteers — Spanish speakers preferred — and assisted at the event alongside students from FSPH and other parts of UCLA, and two UCLA Fielding faculty, Drs. Kristen Choi and Pamina Gorbach. It was neither the first nor the only time that UCLA Fielding volunteers helped get COVID-19 vaccines to traditionally underserved populations.
Shover was working as a supervising epidemiologist for the Los Angeles County Department of Public Health (LACDPH) in the second half of 2020 through a six-month contracting position in which she led data reporting on COVID-19 among people experiencing homelessness. As she was coming to the end of her time at the county and preparing to transition to her current position as an assistant professor at the UCLA David Geffen School of Medicine, Shover was approached by her former FSPH classmate, Claire Jarashow (PhD '16), then director of vaccine-preventable disease control for LACDPH.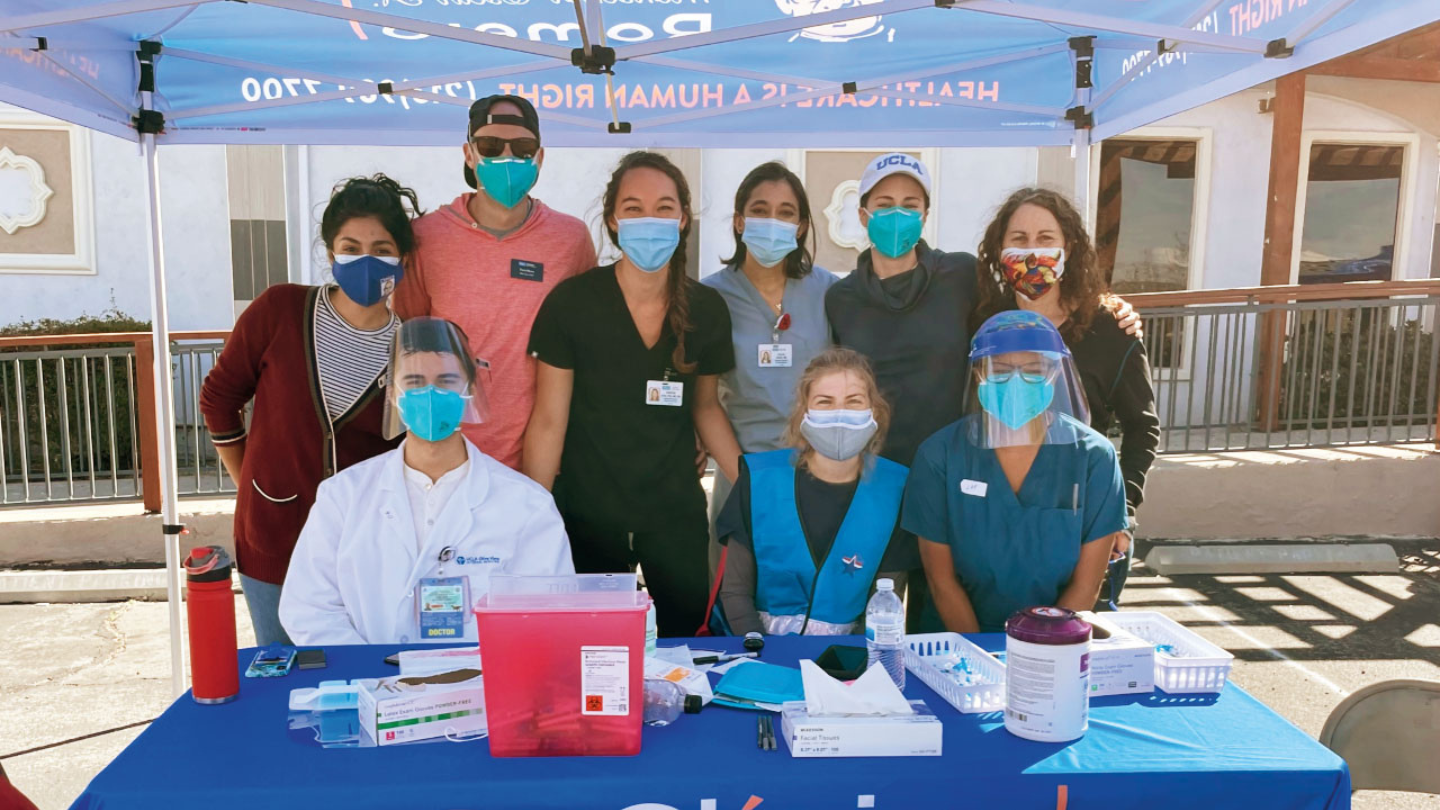 At the UCLA-supported pop-up clinic fo farmworkers in Palmdale, California, hosted by Clinica Romero.
"As the vaccines were becoming available, it was clear that a lot of FQHCs and other clinics serving vulnerable populations that were getting vaccine allocation didn't have the kind of data infrastructure support to fulfill the state's requirements," Shover says. "I knew there were many students, including from the Fielding School, who were at home during the pandemic and would be excited to help, so we put out a call for data volunteers and matched a bunch of students with clinics that needed assistance."
Over the ensuing months, as Shover conducted site visits and learned about other needs the FQHCs had, her recruitment efforts broadened. In all, Shover connected some 200 clinical and non-clinical volunteers with opportunities to support the vaccine programs of approximately a dozen FQHCs around L.A. County, as well as supporting the work of Housing for Health, a division of the L.A. County Department of Health Services that has engaged in a street-based COVID-19 response. The volunteers included more than a dozen FSPH students, many of whom continued to provide support on an ongoing basis, in some cases as summer practicum experiences.
Allison Rosen, an FSPH doctoral student in the Department of Epidemiology, joined Shover's volunteer program in January 2021, initially as a consulting epidemiologist with St. John's Well Child and Family Center, an FQHC that is among the largest healthcare providers in South and Central Los Angeles. Rosen provided recommendations for data management, trained staff on vaccine reporting requirements, and assisted with patient registration at vaccine clinics. In May 2021, she began working as a supervising epidemiologist for Housing for Health. "It's been both exciting and rewarding to use the knowledge and skills I've gained as an FSPH student to increase COVID-19 vaccination access for people experiencing homelessness in L.A.," Rosen says.
In Shover's role as as a supervising epidemiologist for L.A. County, she had collaborated with Housing for Health, which worked proactively in sending staff to shelters and encampments — first for testing and, once available, to provide vaccinations for unhoused individuals. At UCLA, Shover received funding in May 2021 to lead a study, in partnership with Housing for Health, examining the feasibility of a peer ambassador program as a way to better reach the people in these environments. The demonstration project, which Shover led through December 2021, when the county began running the program on its own, paid scores of people who were either currently unhoused or had experienced homelessness to work alongside Housing for Health's community health workers, passing out supplies and engaging the unhoused individuals in conversations about the COVID-19 vaccines in an effort to get them vaccinated.
Shover's study found that paying peer ambassadors $25 an hour in the form of retail gift cards resulted in one additional person getting vaccinated for every hour worked. "People who are on the fence on whether to get vaccinated are much more likely to listen when they're approached by a peer — someone they know and trust — than someone from a university or government agency," Shover says.
Two UCLA Fielding MPH students who worked with Shover as interns in summer 2021 to fulfill their practicum requirements say the experience was invaluable. Jacqueline Beltran responded to Shover's call for bilingual students to join the peer ambassador study and stayed on through the end of UCLA's affiliation with the project, helping to implement the program and build capacity among the L.A. County Department of Health Services staff to sustain it beyond the study. "Working in the field among people currently experiencing homelessness,
I learned that there are those who are more than willing to aid their community and themselves when presented with the opportunity to do so," says Beltran, a student in FSPH's Department of Community Health Sciences. "I have learned just how essential support networks are in this community, as in any other community."
Dr. Chelsea Shover (right) with Gunner Sixx, a coordinator with Housing for Health, at a vaccination event at St. Francis Center in Downtown Los Angeles in August 2021.
Julissa Alvarado, a student in FSPH's Department of Environmental Health Sciences who worked on both the peer ambassador study and the vaccine efforts of Eisner Health, an FQHC serving low-income communities of color in Los Angeles, says she also benefited greatly from the experience. "Having the opportunity to directly interact with underserved populations, such as people experiencing homelessness, and encourage vaccine uptake among these communities gave me insight into some of the equity challenges that came with the COVID-19 pandemic," she says. "It was rewarding to make a positive contribution to eliminating barriers and improving the health of these populations."
When Edith Hernandez joined the Clínica Romero team as its first public health manager in November 2020, her focus was on bringing the new vaccines to the clinic, and then ensuring that the allotment made its way to the hard-to-reach populations the FQHC was meant to serve. Founded in 1983 by a group of Salvadoran civil war refugees, Clínica Romero has physical locations in Los Angeles' Boyle Heights and Pico-Union communities, but its reach extends well beyond. "The goal has always been to extend services to people who have nowhere else to go, which includes low-income, essential workers from underserved immigrant communities, many of whom are undocumented or have unknown immigration status," Hernandez says. "And because Clínica Romero has been around so long, it's developed high levels of trust in these communities."
I'm proud of what we were able to do in getting vaccines to communities that are so often overlooked.

---
In pursuit of that mission, Clínica Romero partnered with Salva, a Palmdale-based nonprofit organization that advocates for migrants' rights, on two events aiming to vaccinate the community's farmworkers. Thanks in part to the volunteers Shover helped recruit, Hernandez's concerns about bottlenecks at the registration table were allayed. More than 200 farmworkers were vaccinated at each event.
In June 2021, Hernandez accepted a position at the L.A. County Department of Public Health, where she is the lead project manager for the weekly COVID- 19 testing programs of all private, public, and charter schools. That has meant helping to establish a first-time program, just as she did at Clínica Romero, where Hernandez oversaw the administration of more than 15,000 vaccines in the three months from February through May 2021.
"Looking back, that experience seems surreal," Hernandez says. "It was peak COVID, and we were on high speed all the time, working seven days a week. But I'm proud of what we were able to do in getting vaccines to communities that are so often overlooked. With every vaccine we administered, that was a life we changed."
Shover has mostly returned to the work she was focused on prior to the pandemic — conducting research on addiction, overdose, and infectious disease. She continues to do community-engaged research, applying lessons learned from the peer ambassador study to scale up projects in harm reduction. Besides lending much-needed assistance to the efforts to bring vaccines to traditionally underserved communities and providing FSPH students with indispensable on-the-ground experiences, she brought in friends who had no previous exposure to public health, but have since opted to stay in the field. Many of the community health workers who recruited peers for the peer ambassador study have also remained in public health.
"I feel like I've met all the best people in L.A., very efficiently," she says, smiling. "It was a great experience."