SARAH FANTA LOVED HER JOB AS A DIETITIAN with the Public Health Foundation Enterprises WIC program, which provides healthy free food, nutrition education, breastfeeding assistance, and family resources to more than 200,000 women, children, and families in Southern California. As a supervisor at WIC offices in South Los Angeles and Culver City, Fanta managed teams that provided support services as well as high-risk counseling to WIC participants. But as much as she enjoyed assisting some of the region's most vulnerable residents, after more than seven years at the agency, Fanta decided to seek graduate education that could provide a broader perspective on the food-insecurity challenges and disparities she encountered on a daily basis. Fanta put her administrative duties on hold and, while continuing as a WIC dietitian, enrolled in the UCLA Fielding School of Public Health's MPH program.
While she was pursuing her MPH, Fanta also began taking courses in the Food Studies Graduate Certificate Program, based in UCLA Fielding's Department of Community Health Sciences but open to all UCLA graduate students. The program prepares students from wide-ranging disciplines to address complex topics related to food cultures and histories, nutrition and public health, food policy and food justice, and urban planning and environmental sustainability.
"My exposure to food and nutrition issues beyond maternal and child populations had been quite limited, given that I've been at WIC for the majority of my post-undergraduate career," Fanta says. "Learning about the complexities of the food system from faculty and other students who have such different perspectives has been amazing. It's important to understand these complexities and work with other disciplines to make food more affordable, our practices more sustainable, and to ensure that the system is equitable for all populations."
The development of the UCLA Food Studies Graduate Certificate Program, as well as other initiatives promoting interdisciplinary collaboration toward the goal of food equity and sustainability, came out of a Food Summit held at UCLA in 2014, led by the Semel Healthy Campus Initiative (HCI) Center. At the event, more than 70 faculty, students, staff, and campus leaders brainstormed on the development of experiential and co-curricular programs to educate students on the broad topics involved.
"Education focused on a specific subject is necessary, but students also need to develop the skills to work as part of interdisciplinary teams in order to address the whole food system," explains Dr. Wendelin Slusser, associate vice provost of the Semel HCI Center, which was envisioned and supported by Jane and Terry Semel. "The interdisciplinary team approach integrates different disciplines, points of view, strengths, knowledge, goals, and values, and encourages experts from different fields to talk to one another. Building communication is the first step in solving the world's biggest challenges."
---
"Our goal is to educate and empower the next generation of interdisciplinary leaders and game changers to address the major issues of our time around food — and that means covering all of the dimensions of food in the global and local communities through the lens of equity."— Dr. Wendelin Slusser
 
---
In the ensuing years, outcomes from the Food Summit have included the establishment of an undergraduate minor in food studies; the jane b semel Healthy Campus Initiative Community Garden, which provides an on-campus site for the UCLA community to grow healthy food and foster education on urban gardening practices, and donates a portion of the produce grown to help food-insecure students; and the Teaching Kitchen, a program of the Semel HCI Center, co-founded by FSPH, which offers an interactive space to help students learn to cook healthy and affordable meals. In January 2022, an anonymous $13.5 million gift established the UCLA Rothman Family Institute for Food Studies, an interdisciplinary institute devoted to research, teaching, and policy about food.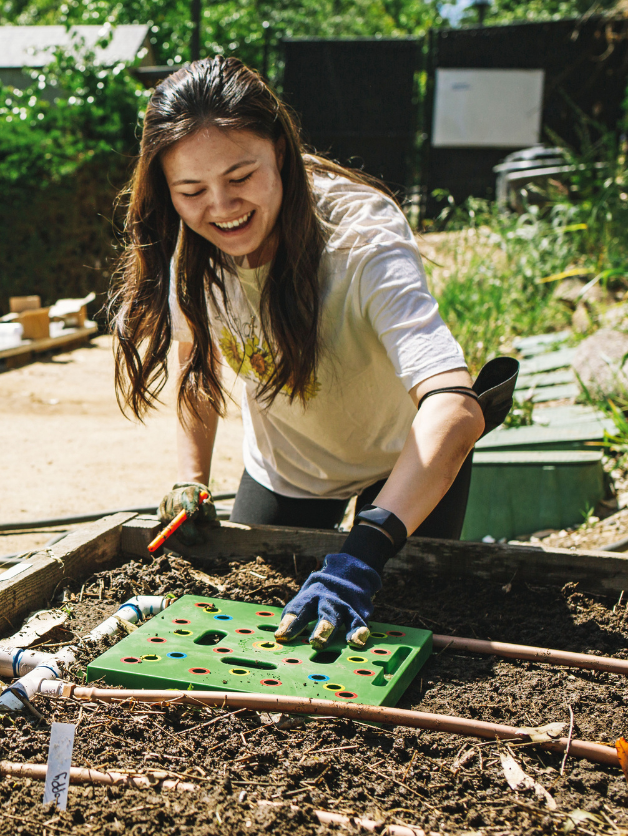 The Food Studies Graduate Certificate Program, established in 2015 and based in UCLA Fielding since 2019, represents the realization of the summit's vision of an interdisciplinary approach to educating future leaders equipped to tackle the growing concerns of food security and environmental sustainability. Through the program, graduate students interested in food from different perspectives — health, economic, cultural, environmental, culinary — take classes together and collaborate on projects with others from across campus, including students from public health, urban planning, public policy, business, law, engineering, psychology, humanities, education, and other natural and social sciences.