AS THE GLOBAL COMMUNITY grappled with the COVID-19 pandemic early in 2020, one country that stood out as an exemplar of the impact a coordinated and proactive public health approach could have in containing an emerging infectious disease outbreak was Singapore, where Fielding School alum Angela Chow (PhD '14) serves at the forefront of the response.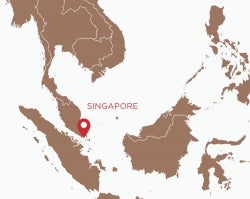 Singapore reported its first COVID19 case on Jan. 23 and more soon followed — initially through travelers arriving from Wuhan, the capital of China's Hubei province, where the outbreak originated. But Singapore's public health response was swift — including canceling all inbound flights from Wuhan; imposing strict quarantines and restricting the movement of individuals who had recently been in affected areas; taking immediate steps to map the transmission of the novel coronavirus through polymerase chain reaction testing and tracing of contacts of people found to be infected; and amplifying campaigns to promote safe distancing, as well as personal and public hygiene strategies designed to reduce transmission.
Collectively, these actions resulted in a much flatter rate of case growth in Singapore during the early weeks of the pandemic than in European nations and the U.S. The early response drew praise from World Health Organization Director-General Tedros Adhanom Ghebreyesus, who on March 10 lauded Singapore's "all-of-government approach," bringing the resources of multiple sectors to bear on the pandemic.
"We have had a highly coordinated effort, involving not just the health sector but many other sectors, all contributing based on their expertise," Chow says. As an example, she cites the law enforcement community's role in assisting with the contact tracing, based on its investigative know-how.
The 1,600-bed acute care Tan Tock Seng Hospital, where FSPH alum Angela Chow heads the department of clinical epidemiology, treats the majority of confirmed COVID-19 cases in Singapore.
Chow has played a key part in Singapore's response through her work at Tan Tock Seng Hospital (TTSH), where she heads the Department of Clinical Epidemiology, and at the National Centre for Infectious Diseases (NCID), where she is director of the National Public Health and Epidemiology Unit. The NCID is a national referral center built for managing emerging infectious disease cases, with 330 beds — though it ramped up to nearly double its capacity after the first COVID-19 cases. TTSH, which is co-located with NCID, has been supporting and augmenting NCID with human resources and other assistance.