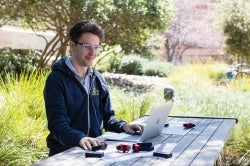 Jonah Lipsitt
Few strategies are as important to a long, healthy life as physical activity: It's associated with a lower risk for heart disease, stroke, Type 2 diabetes, depression, some cancers and obesity, according to the U.S. Centers for Disease Control and Prevention. Efforts to steer urban populations away from their sedentary ways have focused, among other things, on building pedestrian- and bike friendly environments. But as the climate warms and uncomfortably high temperatures become more commonplace, how will that affect the ability of such initiatives to succeed? Jonah Lipsitt, a PhD student in FSPH's Department of Environmental Health Sciences, has studied the public health and environmental benefits of active transportation, and is now using geographic information systems as a tool to examine differences in the effect of heat on rates of physical activity across different parts of Los Angeles, and the extent to which access to green space helps to reduce the negative impacts. "As climate change makes extreme  heat more prevalent, and our population remains largely physically inactive, this research could help inform how we respond, adapt to, and mitigate these impacts," Lipsitt says.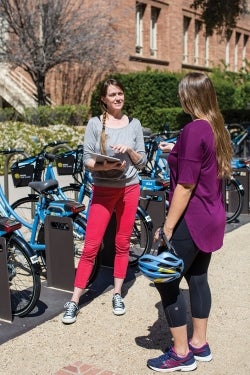 Christina Batteate
The transportation sector is one of the largest contributors to carbon emissions worldwide, which makes promoting more active forms of transportation a key part of the effort to reduce the greenhouse gases that are driving climate change. Christina Batteate (MPH '12), a PhD student in the Fielding School's Department of Environmental Health Sciences, studies ways to promote active modes of travel such as walking and biking. "In addition to being emission-free ways to get around, walking and biking stimulate physical activity, boost social interaction and improve mental health," she notes. Batteate has been interested in quantifying the amount of physical activity garnered from active travel in Los Angeles and assessing the safety and quality of the routes where it takes place. She is part of a team currently analyzing travel data on more than 450 UCLA commuters, with a particular focus on the impact of the rollout of Bruin Bike Share — part of an integrated network of 830 GPS-connected bikes stretching from Venice Beach to Hollywood — as well as e-scooters across campus. "Demonstrating the power of sustainable transport to improve not only planetary health, but also individual health, is critical in changing attitudes, infrastructure and policies," Batteate says.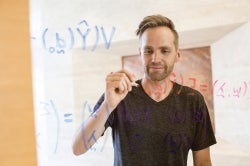 Gregory Watson
With climate change contributing to a hotter and drier California, the record-setting wildfires that devastated parts of the state last year might be a harbinger, raising the likelihood that a growing number of people could be affected by wildfire smoke in the years ahead. Understanding the dangers of wildfire smoke and who is at greatest risk are difficult scientific problems, notes Gregory Watson (MS '11), a PhD student in FSPH's Department of Biostatistics. "The population at risk can be immense, and many factors influence health," he explains. "Sophisticated statistical and machine-learning tools can help, but most were developed for use on less complicated data, and naively applying them to public health wildfire data can be misleading." Watson is part of an FSPH group that is developing, comparing and applying state-of-the-art statistical and machine-learning models to the analysis of public health wildfire data. The team is developing rigorous statistical procedures for evaluating the performance of these models on complicated data — such as that on wildfires and  public health — as well as new models tailored to the complexities of this type of data. "These advancements will enable us and other public health researchers to better understand and combat the dangers of wildfire smoke," Watson says.