FSPH at American Public Health Association Annual Meeting and Expo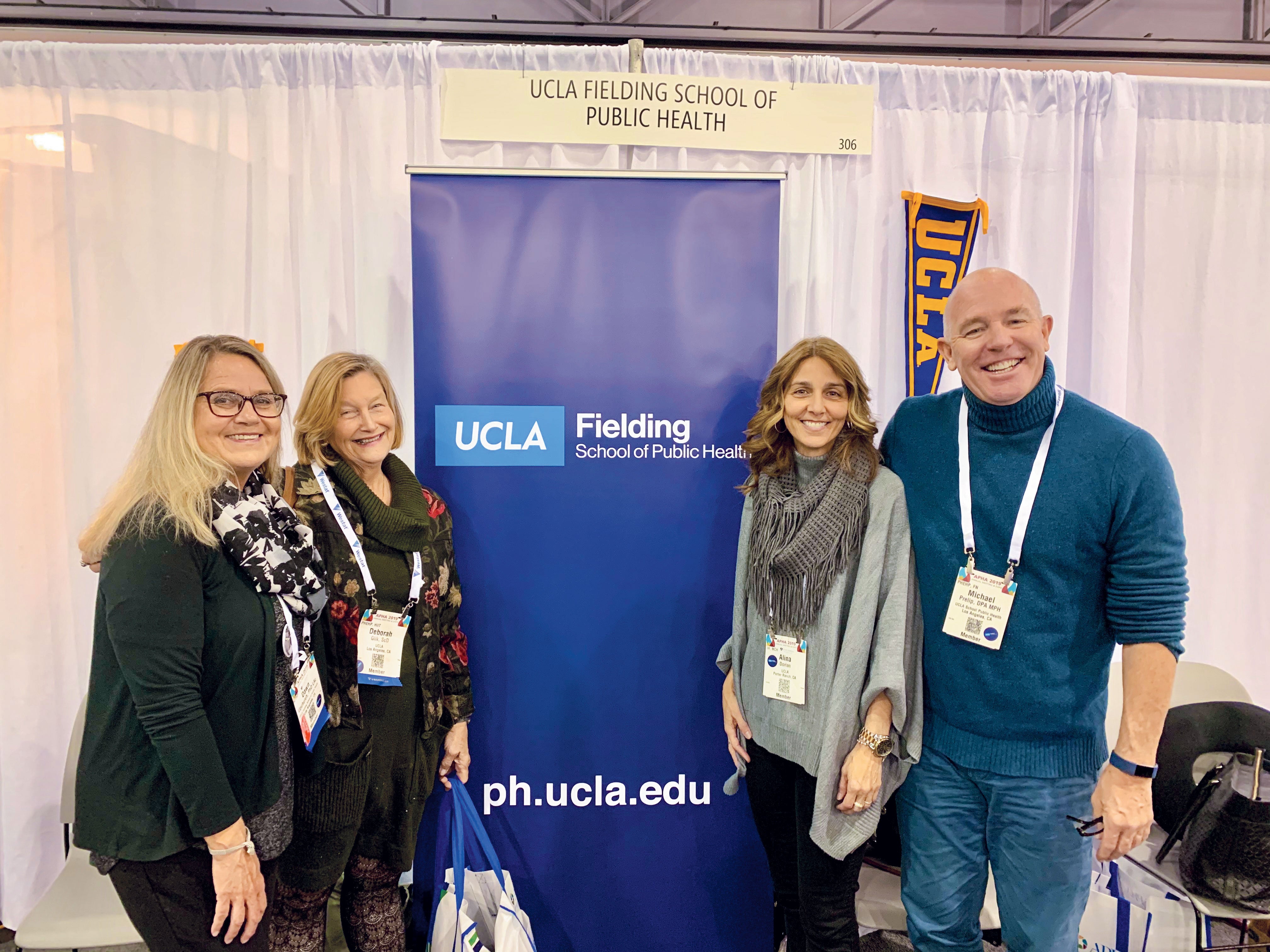 THE 2019 AMERICAN PUBLIC HEALTH ASSOCIATION (APHA) annual meeting in Philadelphia was attended by Fielding School faculty, students, staff, and alumni, many of whom had their work featured. The meeting's theme was "Creating the Healthiest Nation: For science. For action. For health."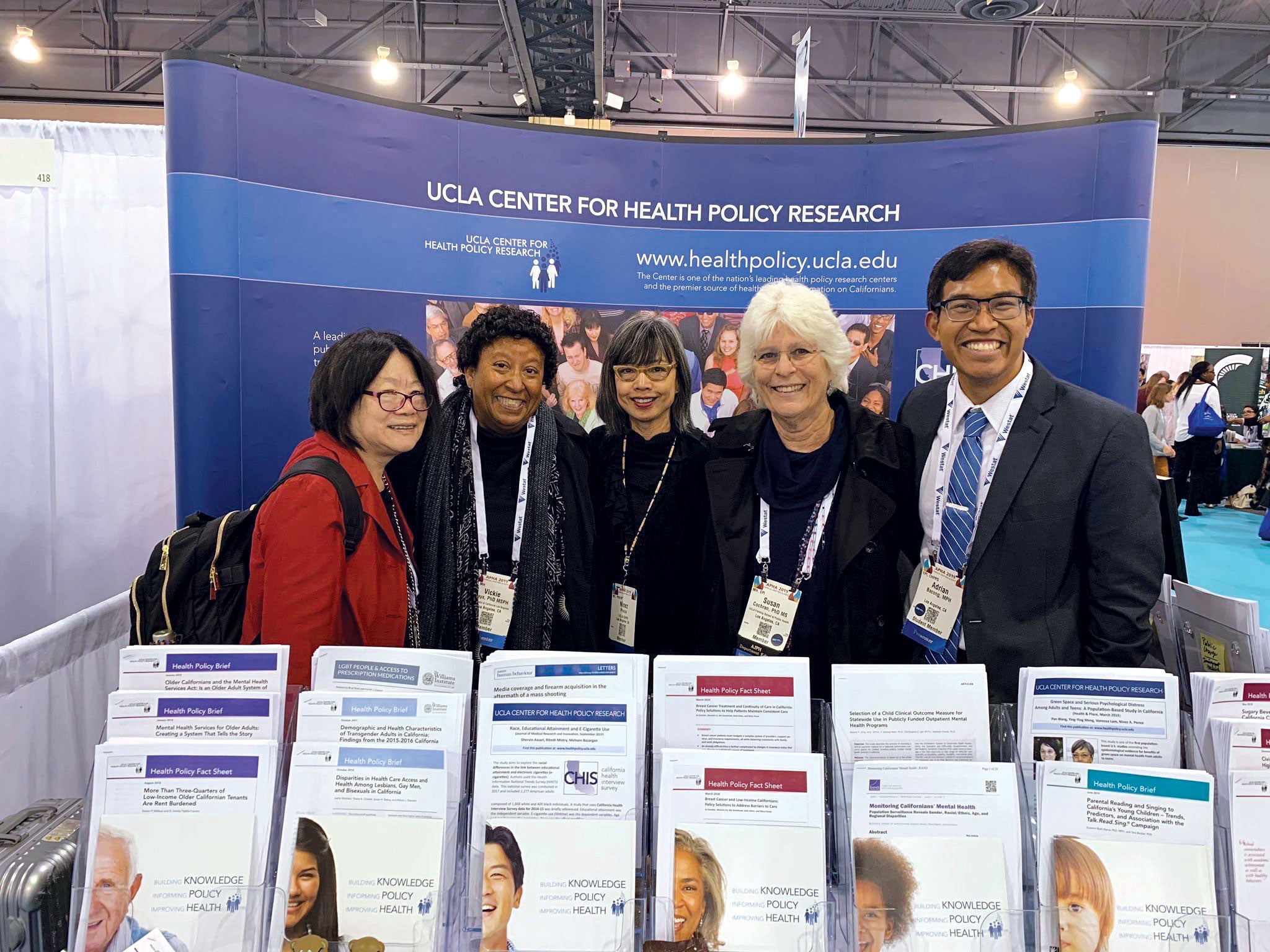 The APHA Food & Nutrition Section chose professor of community health sciences May Wang as the winner of the 2019 Excellence in Dietary Guidance Award. Dawn Upchurch, professor and vice chair of the community health sciences department, was elected to serve as section councilor for the Integrative, Complementary and Traditional Health Practices Section of APHA. Department of Community Health Sciences professors Chandra Ford and Gilbert C. Gee were unanimously chosen as co-recipients of the 2019 Paul Cornely Award for their work, individually and together, on the impact of racism on health. Ford and Gee accepted their awards at the annual Health Activist Dinner in Philadelphia.
Welcoming New Faculty
The Fielding School welcomes the following new faculty members. To learn more about their work, please visit this page.
DEPARTMENT OF BIOSTATISTICS
ZHE FEI, assistant professor-in-residence
Fei develops statistical methods to analyze big data and has applied these methods to data related to cancer survival, epigenetics and aging, and quality measures for health care providers. He is part of several research collaborations, including one with the UCLA Luskin School of Public Affairs and the Los Angeles Unified School District that aims to improve the mental health of students in Los Angeles.
DEPARTMENT OF COMMUNITY HEALTH SCIENCES
JENNIFER WAGMAN, assistant professor
Wagman collaborates with researchers at the Rakai Health Sciences Program in Uganda to investigate intimate partner violence, hazardous alcohol use, and HIV infection. She also leads UC Speaks Up, a project aimed at preventing sexual assault and dating violence on three University of California campuses, and is director of Violence Prevention Research with the UC Global Health Institute Women's Health, Gender and Empowerment Center of Expertise.
DEPARTMENT OF ENVIRONMENTAL HEALTH SCIENCES
JIAN LI, professor
Li conducts research about how work stress can affect a person's health and investigates which interventions can help. Li's contributions to the field of occupational health have been recognized with awards from the National Institute for Occupational Safety and Health and other research societies.
DEPARTMENT OF EPIDEMIOLOGY
MARISSA SEAMANS, assistant professor
Seamans analyzes large health care databases to learn about patterns related to substance use and mental health. Most recently, she led a study that found that people who live in households with prescription opioid users are at higher risk for taking the drugs themselves.
ANNETTE REGAN, adjunct assistant professor
Regan studies the maternal and child health impacts of vaccination during pregnancy as well as strategies for promoting vaccines to parents and pregnant women. She is currently working on several projects that aim to improve flu vaccination among pregnant women and children, and is leading a study involving more than 700,000 Australian mothers and their infants to learn the best time to vaccinate against pertussis and the flu during pregnancy.
DEPARTMENT OF HEALTH POLICY AND MANAGEMENT
JULIE ELGINER, adjunct assistant professor
Elginer is an expert in health care advocacy who has drafted legislation and testified before the California State Legislature and Office of the Governor on issues related to perinatal mental health, human trafficking, categorical eligibility for food stamps, and microbicide funding. In 2010, the California State Assembly bestowed her with an Individual Member Resolution for her "lifetime of achievements and meritorious service."
DR. JOANN ELMORE, professor
Elmore is a primary care physician who conducts research into the accuracy of cancer screening tests and other medical tests. She also studies how patients benefit from accessing their doctors' office notes via the OpenNotes project and is using AI/ machine learning to help improve diagnostic accuracy in radiology and pathology.
RISHA GIDWANI-MARSZOWSKI, adjunct assistant professor
Gidwani-Marszowski's research focuses on both the costs and health outcomes associated with health care services, especially cancer care and end-of-life care. Gidwani-Marszowski is currently a health economist with the Veterans Affairs Health Economics Resource Center and a core investigator at the Veterans Affairs Center for Innovation to Implementation.
ISOMI MIAKE-LYE, adjunct assistant professor
Miake-Lye is a researcher with the Veterans Affairs Greater Los Angeles Healthcare System whose research focuses on how the organization of health systems affects doctors' and other health care providers' approaches to applying evidence from scientific research to their work.
WARREN SCOTT COMULADA, associate professor-in-residence
Comulada designs and analyzes studies that use cell phone apps to help people engage in healthy behaviors. He is currently the lead statistician on two large studies funded by the National Institutes of Health that are investigating HIV prevention and treatment in adults and teens.
DR. YUSUKE TSUGAWA, assistant professor
Tsugawa studies variations in quality of care and costs of care among physicians. According to the research analytics website Altmetric, Tsugawa's paper comparing the quality of care between male and female physicians was the third-most widely circulated scholarly article in 2017.
Center for Healthcare Management and the Paul Torrens Chair in Healthcare Management Established at the UCLA FSPH
THE FIELDING SCHOOL RECENTLY ANNOUNCED the establishment of the Center for Healthcare Management. The center — made possible by the Sinaiko Innovation Fund for Healthcare Management, a $1 million gift from Richard (MPH '77) and Patricia Sinaiko, and Greg (MPH '01) and Marcie Sinaiko — will leverage the Department of Health Policy and Management's close ties with alumni and other leading health care management practitioners in Southern California to ensure that the focus of its research, as well as the curriculum for students in the department's executive, traditional, and customized degree and nondegree programs, are informed by on-the-ground health care management expertise. 
The establishment of the Paul Torrens Chair in Healthcare Management, based within the newly launched center and the Department of Health Policy and Management, will support the teaching and research activities of a faculty member with health care management expertise, and was made possible by a gift of more than $1 million from the Don S. Levin Trust and Edna and Tom Gordon.