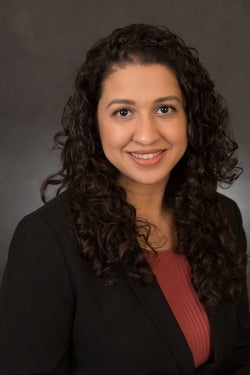 Class of: 2010
Departments: Community Health Sciences
Inductee
Dr. Goleen Samari is a public health demographer and an assistant professor at Columbia University Mailman School of Public Health. She serves as faculty in the Heilbrunn Department of Population and Family Health, the Program on Forced Migration and Health, and the Program on Global Health Justice and Governance.
Her research focuses on promoting health equity across several dimensions. She considers how discrimination, gender inequities, and migration shape population health both domestically and globally with a particular focus on communities in or from the Middle East and North Africa (MENA). She was among the first to draw attention to Islamophobia as a public health issue and is one of a few public health demographers focused on the MENA region. Her work draws attention to the public health needs of groups like Muslim Americans and Syrian refugee women. Her research has been published in several academic journals, and her editorials and op-eds have been published in local and national newspapers.
Dr. Samari received her PhD in Public Health in 2015 and MPH in Community Health Sciences in 2010 from the UCLA Fielding School, and earned her MA in Islamic Studies from UCLA in 2010.
Magazine Article: Alumni Hall of Fame: 2019 Inductees