After nearly four years of service, Dr. Alina Dorian will step down as the UCLA Fielding School of Public Health's associate dean of equity, diversity and inclusion (EDI) on June 30, but will continue in her longstanding role as UCLA Fielding's associate dean for public health practice and in her associate professor position in the Department of Community Health Sciences. 
"I am deeply grateful to Dr. Dorian for her outstanding service and the exceptional work that she has done to expand and advance EDI efforts and programming at our school and across campus," said Dr. Ron Brookmeyer, dean and distinguished professor of biostatistics at the UCLA Fielding School of Public Health.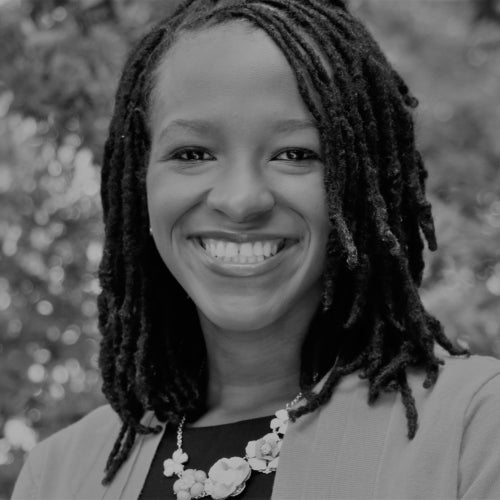 Dr. Courtney S. Thomas Tobin, associate professor in the Department of Community Health Sciences, will begin as the new associate dean for equity, diversity and inclusion at UCLA Fielding on July 1.
Thomas Tobin's research focuses on understanding the causes and consequences of long-standing Black-White differences in health, and considers the multiple ways that racial minority status shapes the everyday experiences and health trajectories of Black Americans across the life course. In addition to Thomas Tobin's faculty appointment at FSPH, she is also a faculty affiliate of the UCLA Ralph J. Bunche Center for African American Studies.
"I'm so honored to work with the Fielding community in this capacity," said Thomas Tobin. "As a School of Public Health, I believe that we are in a unique position to create and demonstrate the kind of safe, equitable, healthy environments that we want for the world, right here at home. I am really looking forward to working with FSPH students, staff, and faculty to foster a community of inclusivity and collaboration as we strive toward sustainable, systemic change."
Thomas Tobin has a significant record of EDI service on our campus. She was appointed by UCLA's Vice Chancellor of Research Roger Wakimoto to the university's Research Diversity Committee in 2021, a position that she still holds. At UCLA Fielding, Thomas Tobin is a co-investigator and mentor for the Public Health Scholars Pipeline Program, which introduces undergraduate scholars from underrepresented backgrounds to research and career opportunities in public health. She has also served as the EDI community representative for UCLA Fielding's Department of Community Health Sciences.
"Equity, diversity and inclusion must be at the core of decisions we make and permeate all that we do," said Brookmeyer. "Our school is fortunate that Dr. Thomas Tobin has agreed to take on this critical role. I'm certain that she will do a superb job and look forward to our collaboration."