Natalie Bradford, MS, PhD Student
---
WHEN I WAS IN HIGH SCHOOL, my family and I moved a dozen times. The series of moves escalated after my younger sister was hit by a car. Many of the rehabilitation services she needed were not available in our neighborhood. At the time, I did not understand why. Why do predominantly Black neighborhoods tend to lack access to quality and affordable health care? To understand this question and contribute to the scholarship and organizing that can challenge its reality, I study structural racism's relationship to health policy and health care inequities.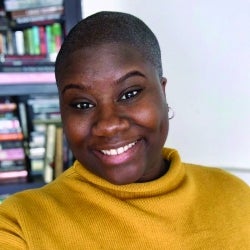 As a graduate student researcher at the Center for the Study of Racism, Social Justice & Health, I contributed to and served as the project manager for the recently published book "Racism: Science & Tools for the Public Health Professional." The book — drawing on decades of public health research, practice, and activism — makes it clear that racism is a public health issue that is neither new nor an aberration from the past. In one of the book's appendices, I describe three community-based anti-racism projects. Each project includes policy change as a strategy to address racism and advance health equity.
One of my goals is to demonstrate that racism is not only a public health issue; it is also a health care and health policy issue. With an eye toward that goal, my dissertation uses critical race theory to examine the relationship between racial residential segregation and the expansion of community health centers under the Affordable Care Act.