MLK Community Healthcare CEO and FSPH Alumnus Delivers Commencement Address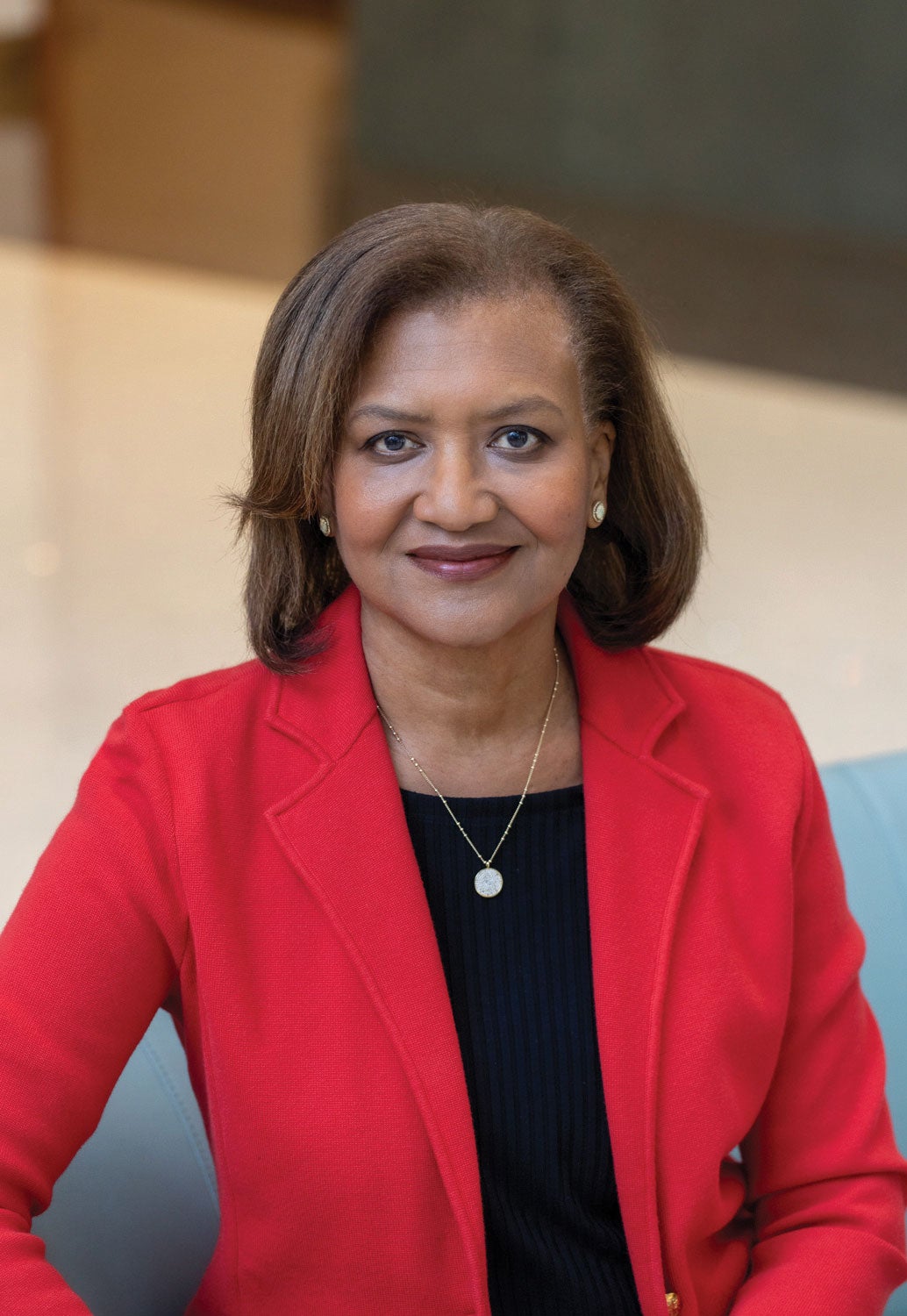 DR. ELAINE BATCHLOR (MPH '90), chief executive officer of MLK Community Healthcare in Los Angeles, delivered the 2021 commencement address for the UCLA Fielding School of Public Health's Virtual Commencement Celebration June 11.
Batchlor leads a health system that includes Martin Luther King, Jr. Community Hospital (MLKCH) — a private safety-net hospital — as well as outpatient practices, the MLK Community Medical Group, a fundraising foundation, and community and population health programs located in South Los Angeles. She was instrumental in the development and start-up of MLKCH, which opened in 2015 as a private, nonprofit hospital with the mission of improving the health of one of the most underserved communities in the state.
A member of the National Academy of Medicine, Batchlor is board-certified in both internal medicine and rheumatology. She has received numerous accolades over the years, including the Partners in Care Foundation's Vision & Excellence in Healthcare Leadership Award and the Irvine Foundation Leadership Award, which recognizes "innovative, effective leaders whose breakthrough solutions to critical state challenges improve people's lives, create opportunity, and contribute to a better California." In addition to being a Fielding School alumnus, Batchlor serves on FSPH's board of advisors.
---
In Memoriam: Drs. Ellen Alkon and William Hinds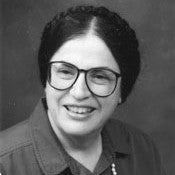 DR. ELLEN ALKON, professor emeritus in the UCLA Fielding School of Public Health, whose career as a public health specialist mirrored the growth of the discipline in the latter half of the 20th century, passed away in December 2020. A pediatrician by training with a lifelong passion for public health, Alkon held leadership positions in three local health departments. In Maryland she served as chief of school health for Anne Arundel County. In Minnesota she was director of maternal and child health, and she served as commissioner of health for the City of Minneapolis. From 1980 until her retirement, she served in the Los Angeles County Department of Health Services and the Los Angeles County Department of Public Health, holding the positions of medical director for public health and chief executive officer of the Long Beach Comprehensive Health Center, medical director of Public Health (West Area), and director of public health education for physicians. At the UCLA Fielding School, she taught the course "Issues and Problems in Local Health Administration" for two decades.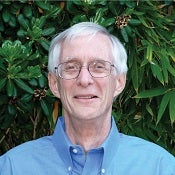 DR. WILLIAM C. HINDS, an internationally renowned scholar on airborne particles and respiratory protection, and professor emeritus of environmental health sciences at the UCLA Fielding School of Public Health, passed away in May 2021. Hinds served as the first chair of the Department of Environmental Health Sciences after the school's departmentalization in 1989. Over the years, he also served as director of the UCLA Industrial Hygiene Program, principal investigator and director of the NIOSH Southern California Education and Research Center, and co-director of the UCLA component of the NIEHS Southern California Environmental Health Center. His primary research area was fundamental and applied research related to aerosols and industrial hygiene controls of airborne contaminants, including respiratory protection. Hinds was a much beloved mentor to 11 PhD students, including senior associate dean for academic programs Dr. Yifang Zhu, and 33 MPH and MS students. Perhaps his best-known contribution was the seminal textbook "Aerosol Technology: Properties, Behavior and Measurement of Airborne Particles," the first such text in the field.
---
"Veteran Journeys"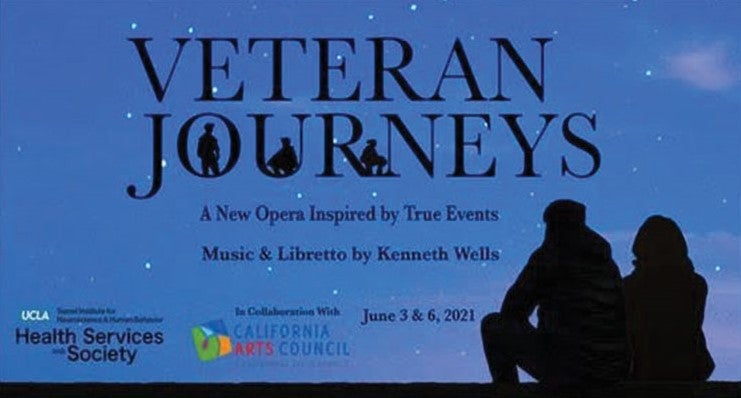 "VETERAN JOURNEYS," AN OPERA INSPIRED BY TRUE STORIES from research interviews, premiered in June with music and libretto by Dr. Kenneth Wells, UCLA Fielding School professor of health policy and management and director of the Health Services Research Center at the Jane and Terry Semel Institute for Neuroscience and Human Behavior at UCLA. Wells, a psychiatrist, has spent years working with veterans and their families who are seeking solace from trauma and mental health issues. This is his third opera on mental health themes to premiere at UCLA.
UCLA Fielding School Team Aids in Building COVID-19 Response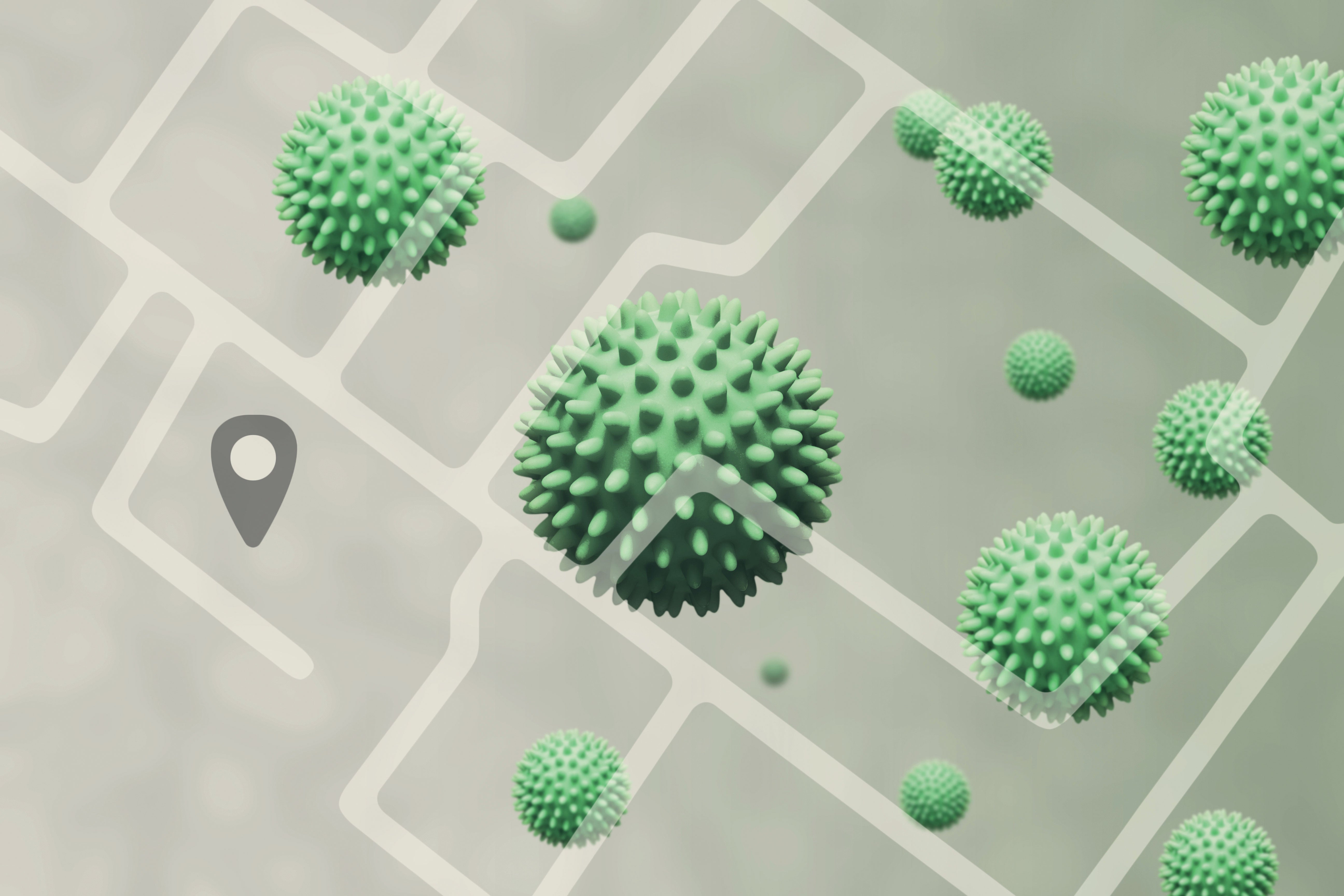 A UCLA FIELDING SCHOOL OF PUBLIC HEALTH-LED TEAM that has played an instrumental role in training thousands of COVID-19 contact tracers and case investigators in California since the start of the COVID-19 pandemic has expanded its work to include collaborations with the Republic of Armenia and Andean Parliament.
The California Connected COVID-19 Virtual Training Academy, which began in May 2020 and continues to train individuals in multiple counties throughout the state in pandemic response techniques, including contact tracing, represents a partnership among the UCLA Fielding School, UCLA Extension, the California Department of Public Health, and UC San Francisco. The FSPH team is led by Dr. Alina Dorian, associate dean for public health practice, and equity, diversity, and inclusion, and Dr. Michael Prelip, professor and chair of the Department of Community Health Sciences; it includes UCLA Fielding School staff and approximately three dozen students and alumni.
In the Republic of Armenia, the UCLA Fielding School team has worked to enhance the nation's capacity to control COVID-19 transmission through fundamental public health strategies. The team has provided technical assistance to Armenia's Ministry of Health since early in the pandemic, and continues to partner in the management of the National Contact Tracing Program in collaboration with the ministry and the American University of Armenia's Turpanjian School of Public Health. The team also led the COVID-19 Training and Planning for the Andes, a partnership with the Andean Parliament for the rapid buildup of lead trainers and facilitators in the parliament's five member countries: Bolivia, Colombia, Ecuador, Chile, and Peru.
"In our work in California, Armenia, and with the Andean Parliament, we are rapidly deploying a new public health workforce of individuals with little or no previous public health background," Prelip says. "And for each program, our focus is on ensuring that this new public health capacity can be used for health conditions beyond COVID-19."
Honor Roll 2020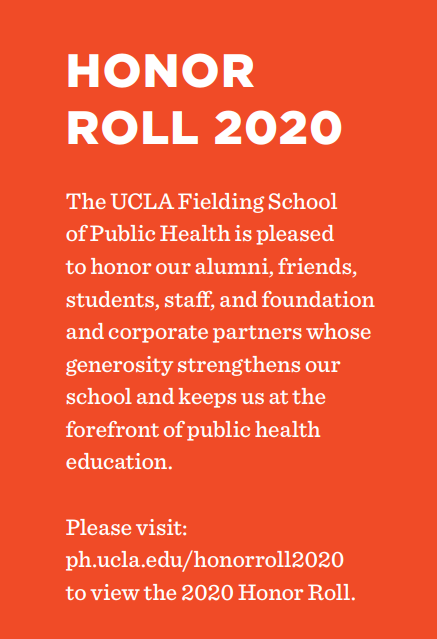 THE UCLA FIELDING SCHOOL OF PUBLIC HEALTH is pleased to honor the donors whose generosity strengthens our school and keeps us at the forefront of public health education, research and service. This Honor Roll gratefully acknowledges gifts and grants of $1,000 and above made to the school from January 1, 2020 to December 31, 2020. Contributions in any amount are of great importance to the school and are deeply appreciated. We are also grateful to those who give of their time and talents to enhance the educational experiences of our students.
The UCLA Legacy Society honors alumni, faculty, staff and friends who have chosen to remember UCLA in their estate plans. We gratefully acknowledge Legacy Society members who have directed their legacy gifts to the UCLA Fielding School of Public Health.