Meeting the Challenges Ahead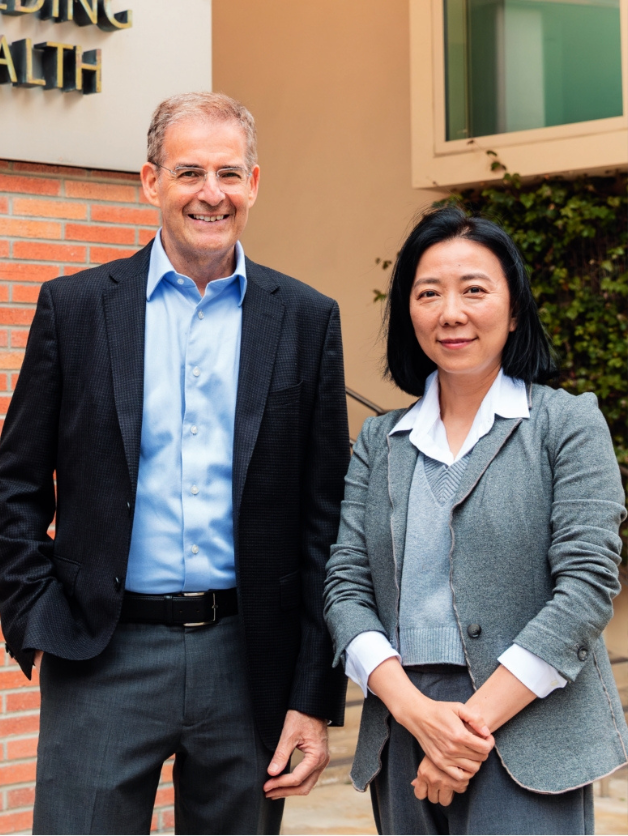 Dr. Ron Brookmeyer and Dr. Yifang Zhu
---
About 40% of U.S. adults were regular smokers in 1961, unrestricted in where they could indulge their habit and undeterred by any surgeon general's warning. The Environmental Protection Agency didn't exist yet; in big cities like Los Angeles, smoggy days were the norm, and reference to a changing climate was more likely to indicate storm clouds rolling in than any type of long-term, existential threat. And for biostatisticians whose formulas were too complex to calculate in their heads, the first all-electronic desktop calculator was just hitting the market.
So much has changed since the UCLA Fielding School of Public Health was established, but one constant is the school's mission to advance public health. In the following conversation, Dr. Ron Brookmeyer (image, left), dean of UCLA Fielding, and Dr. Yifang Zhu (PhD '03) (image, right), who served as senior associate dean for academic programs from July 2018 through June 2023, reflect on that progress and assess the major challenges confronting the field today — and how the school is poised for additional impact in the years to come.
In his own research, Brookmeyer, a distinguished professor of biostatistics who joined the FSPH faculty in 2010, uses the tools of the statistical, informational, and mathematical sciences to address global public health problems. Zhu, a professor of environmental health sciences who came to FSPH for her doctoral studies after graduating from Tsinghua University in Beijing in 1997, studies air pollution, climate change, environmental exposure assessment, and aerosol science and technology.
WHAT COMES TO MIND WHEN YOU THINK OF SOME OF THE MOST STRIKING CHANGES IN PUBLIC HEALTH OVER THE 60-PLUS YEARS SINCE UCLA FIELDING WAS ESTABLISHED?
RON BROOKMEYER: In the 1960s, a lot of experts thought the worst was over with regard to infectious diseases. We already had antibiotics and vaccines, and mortality from infectious diseases had gone down markedly in the past century. Major infectious diseases, most notably HIV/AIDS, would soon emerge. The lesson is we can't become complacent. Another major shift we've seen in the last few decades is toward a broader view of public health. There is greater understanding now that gun violence and racism are public health problems. Similarly, we have a much greater awareness of the importance of social determinants of health, and getting at the root causes of health inequities, than we did in the 1960s.
YIFANG ZHU: I appreciate that historical perspective. I grew up in China, where the concept of public health is less developed. In fact, before I started my training at UCLA Fielding, I thought public health was just about vaccinations. It was only when I came here that I began to appreciate that it was so much more.
Obviously, there are issues that weren't considered to be public health when the school started, such as climate change, but even with that, we can see this broader perspective Ron spoke of. At first, climate change wasn't viewed as a public health issue, but as we apply the public health lens, the health impacts are better appreciated by communities and local governments, leading to actions to mitigate them.
Advances in technology have also changed how we address public health issues. With so much electronic data, we have better tools. We've also seen a huge movement toward community-based approaches. Public health used to be more centralized — the government telling us what to do, whether it was vaccinations or sanitation measures. Now we view communities as partners in trying to move the needle.
DR. ZHU ALLUDED TO CLIMATE CHANGE AS ONE OF THE CENTRAL ISSUES FOR THE FIELD. WHAT ARE SOME OF THE OTHER PUBLIC HEALTH ISSUES THAT ARE GROWING IN IMPORTANCE?
RB: In the strategic plan for our school, we identified five thematic pillars that have been guiding our thinking. The first is infectious diseases. Whether it's an emerging new pathogen or a reemerging pathogen, we have not seen — I'm afraid to say — the last pandemic. A second pillar, effectively communicating what we know and what we don't know, is one we've been dealing with for as long as the school has been here — and, as we have seen during COVID-19, building trust in science continues to be a challenge. Health equity is a third, huge issue. In Los Angeles, people living 10 miles apart can have a 10-year difference in life expectancy, and we know that whenever there's a public health crisis, marginalized and vulnerable populations suffer the most. A fourth is what's often referred to as big data. We have so much data now compared with 20-30 years ago, be it from mobile devices, electronic sensors, or electronic health records, and with unprecedented computing capabilities we have tremendous opportunities to gain insights from all of that data. But if you look at the experience with COVID-19, it showed us public health data systems are archaic, and there's a great need to modernize them. And then the fifth major challenge is climate change, as we've been discussing. These are major areas where our school has been, and will continue to be, focused on providing leadership.
YZ: And with all of these issues, there are global aspects as well. Whether it's a pandemic or climate change, we need international collaboration.
WHAT ARE SOME OF THE WAYS IN WHICH UCLA FIELDING IS ENSURING THAT ITS GRADUATES WILL CONTINUE TO BE POSITIONED TO LEAD IN ADDRESSING THESE AND OTHER CHALLENGES?
RB: We're very excited about three new degree programs we have established since 2020. The Master of Data Science in Health, offered through our Department of Biostatistics, is a hybrid program — both online and in person — that prepares recent graduates and professionals to take on major data science issues. The Master of Healthcare Administration, our first fully online program, which is offered through our Department of Health Policy and Management, prepares students for leadership roles in the gamut of healthcare administration settings. Students in the program acquire both the business know-how and the public health expertise that better enables them to promote population health and health equity. And then our new degree program for undergraduates, leading to either a BA or a BS in public health, will not only help to bolster and diversify the public health workforce, but will also ensure that people going into other professions — whether it's business, public policy, law, medicine, nursing, dentistry, or anything else — have a public health mindset. As COVID-19 reaffirmed, we need leaders in all sectors looking through the lens of public health in addressing issues that impact the health of populations.
We have also brought in an incredible group of early-career faculty. They are energetic, talented, engaged, and addressing these critical issues through collaboration. With these big problems, you need multidisciplinary teams of experts, and our faculty recognize the importance of that.
YZ: More broadly, our school contributes by nurturing the next generation of public health scholars, researchers, practitioners, and advocates for the community. We can be proud that, compared with other leading public health schools, we have a diverse student body and faculty. Our school is strongly committed to advancing health equity through research and community engagement. And because we're in Los Angeles, we have many fruitful partnerships with government agencies such as the L.A. County Department of Public Health, as well as with community-based organizations and nonprofits, all of which allow us to work more collaboratively with diverse public health stakeholders.
WHAT DID YOU KNOW OF THE SCHOOL WHEN YOU WERE BEING RECRUITED? WHAT STOOD OUT FROM THE OUTSIDE, AND WHAT DID YOU LEARN ONLY AFTER YOU GOT HERE?
RB: A big part of the draw for me was the location. When you think about schools of public health in a large, diverse city, on a compact campus in an environment that encourages collaboration, it's hard to find any place that's comparable. As far as what I knew about the school, when I was a graduate student studying statistics, I took an elective course in biostatistics. The textbook was called "Survival Distributions," coauthored by Virginia Clark, a professor at UCLA. Biostatistics at UCLA has a long tradition of leadership, and I was proud to be joining that department.
YZ: I have a similar story. For my master's, I was studying airborne particles. We used a textbook called "Aerosol Technology," and the author was Bill Hinds at FSPH. It was the bible for the aerosol field. So when I started applying to doctoral programs, I knew studying with him was my first choice. I was fortunate to have the opportunity to join his lab and do my PhD with him, and then to become his co-author on the latest edition of that book.
As an environmental engineering person, I had never thought much about the health implications of pollutants in the air. Then we did research that, along with the research of others, led to policies prohibiting new schools from being built within a certain distance of a major freeway. I began to learn about environmental justice — who was generating the pollutants, who was bearing the burdens — and I knew this was how I wanted to make a difference.
COVID-19 WAS SUCH A HUGE MOMENT FOR THE FIELD. DR. BROOKMEYER, YOU TALKED ABOUT HOW IT WAS A REMINDER THAT WE NEED TO BE BETTER PREPARED FOR THE INEVITABLE FUTURE OUTBREAKS, AND HOW PUBLIC HEALTH CRISES SUCH AS COVID-19 MAGNIFY EXISTING INEQUITIES. WHAT ARE SOME OF THE OTHER LESSONS TO BE DRAWN?
RB: Certainly the importance of public health leadership, and building trust. Science matters. Data matters. COVID-19 demonstrated the importance of providing support for public health at all times, and not just waiting for an emergency. We can't just wait for the next crisis. We have to rebuild our public health infrastructure now, and advocate for the political will necessary to secure funding.
YZ: At its core, public health is about prevention. When everything is going well, there are no headlines and we're not on the public's radar. That makes it challenging to communicate the need for funding during nonemergencies, but as Ron said, it's essential that we do.
IN THE FACE OF SO MANY DIFFICULT CHALLENGES, WHAT GIVES YOU A SENSE OF OPTIMISM ABOUT THE ABILITY OF FSPH AND THE FIELD OF PUBLIC HEALTH TO MAKE PROGRESS?
RB: For me, that one's easy — our students. They're amazing. They are so passionate about making a difference, and they persevere. Knowing they're the next generation of leaders makes me optimistic.
YZ: I couldn't agree more. Interacting with students is the most rewarding part of being an educator. I feel inspired by their passion, their new ideas, their intellectually stimulating questions. Seeing the scientific advances in my field also gets me very excited. With all of the new tools now available, we have exciting opportunities to gain new knowledge that can lead to solving these problems.
Faculty Referenced in this Article