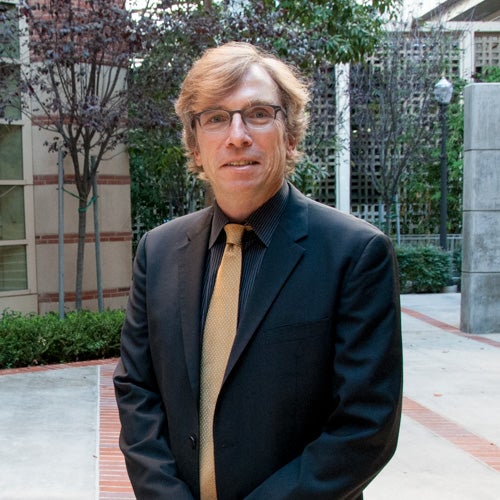 UCLA Fielding School of Public Health professor Dr. Michael Jerrett has been recognized for his work at the nexus of public and environmental health by the International Society of Exposure Science, the leading international scientific society in the field.
Jerrett, professor of environmental health sciences and co-director of the UCLA Center for Healthy Climate Solutions, was honored with the 2021 "Excellence in Exposure Science Award" for his research work. The award was announced at the society's 2021 annual meeting.
"I appreciate the support of my colleagues in our discipline; the current pandemic has made clear the links between exposure science and public health," said Jerrett, also the immediate past chair of the Fielding School's Department of Environmental Health Sciences and director of the Center for Occupational and Environmental Health. "There is a potentially large association between exposure to air pollution and population-level rates of COVID-19 cases and deaths, and this work is especially important for targeting interventions aimed at limiting the impact of COVID-19 in polluted communities. Moving forward, our field and many others needs to confront the exposures generated by climate change."
Exposure science is the study of human contact, such as by swallowing, breathing, or touching, with environmental factors and their effects on the human body. Research in this field aims to determine the types, levels, and combinations of exposures people experience, and how those exposures affect human health over a lifetime. Jerrett is an expert on how the built environment affects public health, from exposure to pollution to how the design of cities influences physical activity, behavior and obesity.
"Dr Jerrett has made a tremendous contribution to the field of exposure science and is internationally recognized as one of the leaders in the field," said Dr. Mark J Nieuwenhuijsen, editor-in-chief of the journal Environment International. "His work has significantly contributed to new insights in environmental health and he truly deserves the award; his novel cutting edge modelling methods have greatly advanced the field."
---
The UCLA Fielding School of Public Health, founded in 1961, is dedicated to enhancing the public's health by conducting innovative research, training future leaders and health professionals from diverse backgrounds, translating research into policy and practice, and serving our local communities and the communities of the nation and the world. The school has 631 students from 26 nations engaged in carrying out the vision of building healthy futures in greater Los Angeles, California, the nation and the world.