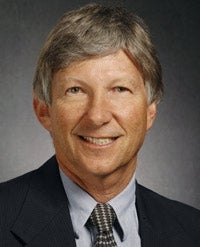 Dr. Robert M. Kaplan, Professor Emeritus of Health Policy and Management at FSPH, has been named chief science officer at the Agency for Healthcare Research and Quality (AHRQ), an organization under the U.S. Department of Health and Human Services which focuses on producing evidence in support of making healthcare safer and more accessible.
Dr. Kaplan will provide scientific oversight for research activities at the agency, especially related to AHRQ's investments in safety, quality and patient-centered outcomes. He will also work on coordinating AHRQ's research efforts with those of other federal partners. Previously, he was associate director for behavioral and social sciences, Office of the Director, and director of the Office for Behavioral and Social Sciences Research at the National Institutes of Health. Prior to his federal service, Dr. Kaplan was Distinguished Professor of Health Policy and Management at the UCLA Fielding School of Public Health and Distinguished Professor of Medicine at UCLA's David Geffen School of Medicine. He was principal investigator of the California Comparative Effectiveness and Outcomes Improvement Center, and also led the AHRQ-funded UCLA/RAND health services training program and the UCLA/RAND Prevention Research Center.
Dr. Kaplan is active in a variety of cross-governmental activities. He co-chairs the Social, Behavioral and Economic Sciences subcommittee of the Committee on Science for the U.S. National Science and Technology Council, within the U.S. Executive Office of the President. He is also a member of the National Committee on Vital and Health Statistics and the Intergovernmental Working Group on Quality of Healthcare. Dr. Kaplan is a past president of several organizations, including the American Psychological Association Division of Health Psychology. In 2005, he was elected to the Institute of Medicine of the National Academies of Sciences.