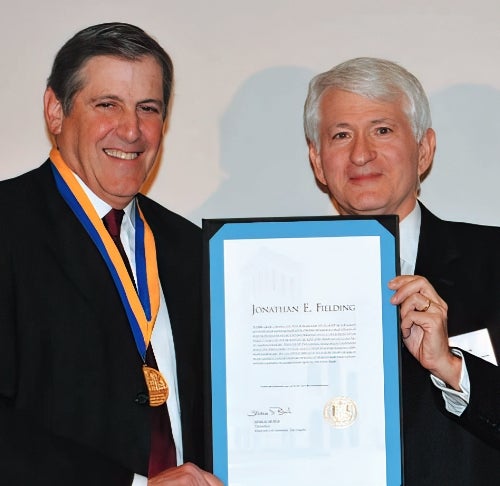 In 1996, Dr. Jonathan Fielding, a professor at the school, was appointed acting health officer and senior policy adviser to the director of the Los Angeles County Department of Health Services. Two years later, Fielding (pictured, left, receiving the UCLA Medal from Chancellor Gene Block in 2009) was invited to draw up a plan to revitalize public health in the county. The county board of supervisors embraced the plan, and asked him to join the department as its director and public health officer. When the supervisors approved the establishment of a separate Los Angeles County Department of Public Health in 2006, Fielding was appointed as the founding director. He stayed on until 2014, earning a reputation for innovative and proactive initiatives, including the nation's first A-B-C restaurant-grading program. It was a period during which the school developed ever-increasing ties with the county public health department — personified by Fielding, who continues today in his role on the school's faculty and as founding co-director with Dr. Michael Jerrett of FSPH's UCLA Center for Healthy Climate Solutions, which focuses on protecting communities from the ever-increasing effects of climate change.
---
To recognize the contributions of some of the school's most outstanding graduates, UCLA FSPH established the Hall of Fame in 2002. As of 2023, a total of 80 members have been inducted.
---
Research in the early 2000s by Dr. Gail Harrison and one of her doctoral students, Dr. Dena Herman (MPH '95, PhD '02), inspired the first legislative change to overhaul the WIC food package, in 2009. Their study found that providing recipients of Women, Infants & Children (WIC) program benefits with vouchers for fruits and vegetables resulted in sustainable increases in consumption of the healthy foods.
---
The Minority Training Program in Cancer Control Research (MTPCCR) was established in 2003 at UCLA by two FSPH faculty members, Dr. Marjorie Kagawa-Singer and Dr. Antronette Yancey (MPH '91), to increase ethnic diversity in the field of cancer disparities research and encourage minority master's students and master's-level professionals to pursue doc- torates and research careers. Approximately 150 alums from the MTPCCR at UC San Francisco and UCLA (which was later led by Kagawa-Singer and Dr. Chandra Ford) have gone on to complete doctoral training. Many now hold faculty and other leadership positions at institutions across the country, and are beginning pipeline training programs of their own.
---
The UCLA-DRC Health Research and Training Program was founded in 2004 by Dr. Anne Rimoin (MPH '96) as a collaboration among the government of the Democratic Republic of the Congo and university partners to build the local capacity to conduct high-impact infectious disease research in low-resource, logistically complex settings. Rimoin, currently Gordon-Levin Endowed Chair in Infectious Diseases and Public Health and FSPH professor of epidemiology, is an internationally recognized expert on emerging infections, global health, surveillance systems, and vaccination. Her expertise is regularly featured in news media coverage of COVID-19, mpox, and other emerging infections, and she has consulted with the White House and World Health Organization on mpox. In 2023, Rimoin was named to STAT News' 2023 STATUS List, "the ultimate list of leaders in life sciences."
---
A 2013 report prepared by an Institute of Medicine committee chaired by Dr. Patricia Ganz, FSPH distinguished professor of health policy and management, concluded that cancer care in the U.S. was a system in crisis, and spelled out changes that could be implemented to improve the quality of care and outcomes for people diagnosed with the disease. Ganz, a hematologist-oncologist by training, conducted some of the earliest studies on cancer survivorship — helping to identify and address the aftermath of cancer treatment, including the unique ongoing physical, cognitive, and mental health needs of survivors.
---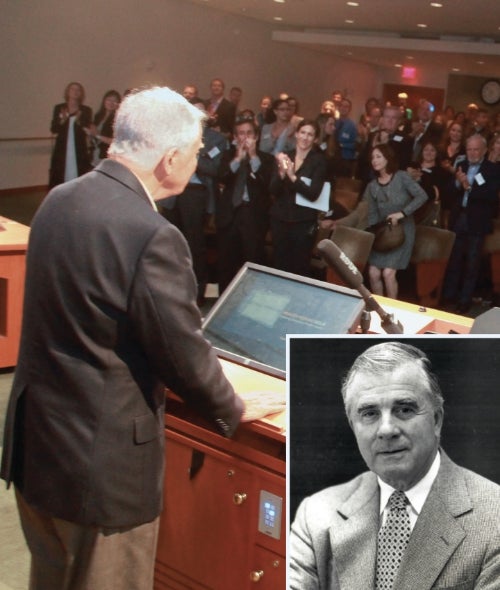 Dr. Paul Torrens (pictured, right) founded a community forum at FSPH in 2010 where academics and practicing professionals could exchange ideas on healthcare management and policy. In 2016 the popular event, presented by the school's Center for Healthcare Management, was renamed The Paul Torrens Health Forum at UCLA FSPH in honor of Torrens, who joined the faculty in 1972 and became a critical mentor to countless FSPH students and alums. In 2019, a gift from Tom and Edna Gordon and the Don S. Levin Trust established the Paul Torrens Chair in Healthcare Management at FSPH.
---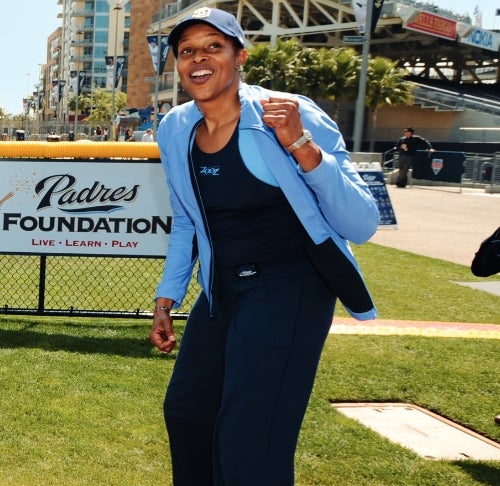 Starting in the 1990s, Dr. Antronette (Toni) Yancey (MPH '91), an FSPH professor and founding co-director of FSPH's UCLA Kaiser Permanente Center for Health Equity, became a powerful and unrelenting advocate for what would become known as Instant Recess. An innovative and practical strategy for engaging people in a 10-minute exercise break, Instant Recess was designed to be fun, accessible for those of all fitness levels, and easily incorporated into everyday settings, including schools, religious institutions, workplaces, meetings, and community centers. Instant Recess was implemented broadly across the country, and in 2010, when First Lady Michelle Obama launched her Let's Move! campaign to combat childhood obesity, she embraced the concept and invited Yancey (pictured, left, leading Instant Recess) to serve as an adviser.
---
With the rapid growth of women in the Veterans Affairs (VA) health system, Dr. Elizabeth Yano (MSPH '87, PhD '96), currently an FSPH adjunct professor of health policy and management, emerged as a leader in the effort to identify and address their healthcare. Yano co-founded the national VA Women's Health Research Network in 2010 to promote studies on the needs of women veterans. As director of the VA Health Services Research & Development Center for the Study of Healthcare Innovation, Implementation & Policy at the VA Greater Los Angeles Healthcare System, Yano has led a research enterprise that has identified and addressed gaps in knowledge about women veterans' health and healthcare needs. In May 2023, she was recognized by VA Secretary Denis McDonough for her contributions to the VA research mission.
---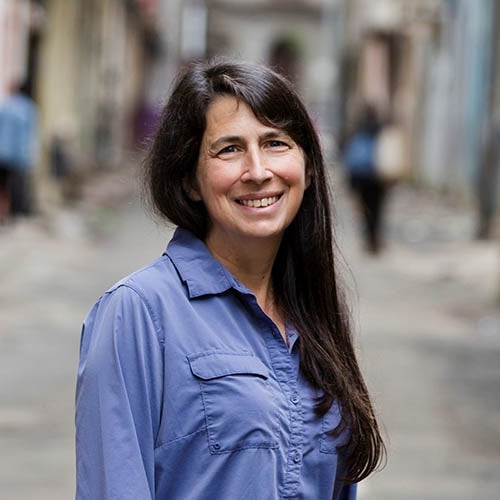 Dr. Jody Heymann, distinguished professor of health policy and management, came to the school from McGill University in Montreal to serve as dean from 2013 to 2018. As founding director of the FSPH-based WORLD Policy Analysis Center (WORLD), Heymann leads an unprecedented effort to improve the level and quality of comparative policy data available to policymakers, researchers, and the public. WORLD examines health and social policies and outcomes in all 193 U.N. countries, and works in partnerships to support evidence-based improvements in countries worldwide.
---
The groundbreaking UCLA Healthy Campus Initiative was launched in 2013 as an integrated, campuswide effort to promote health and wellness of students, staff, and faculty, making UCLA "the healthiest campus in America." Envisioned and supported by philanthropists Jane and Terry Semel, the multipronged program was bolstered from the start by the active participation and leadership of FSPH faculty and students. Dr. Wendelin Slusser, an FSPH adjunct professor of community health sciences, currently serves as associate vice provost for what is now known as the Semel Healthy Campus Initiative Center at UCLA.