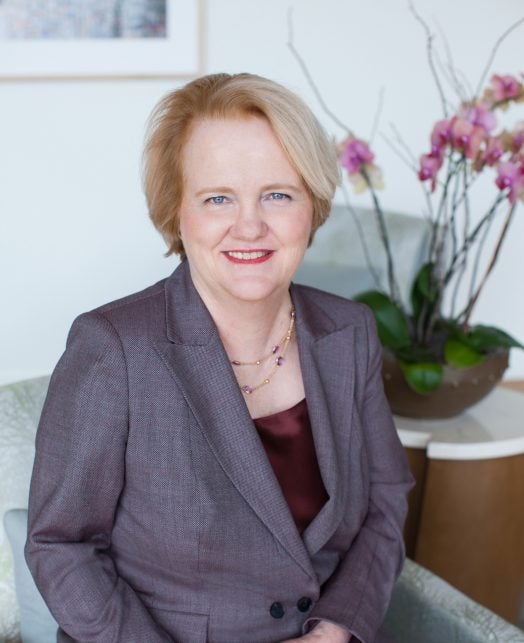 Larson has had a profound impact on public health in the U.S. and globally through her leadership in building successful collaborations to increase access to high-quality reproductive health care, tackle climate change and support land conservation, and ensure communities and families are supported and have the best chance at leading healthy lives.
Under Larson's direction, the Packard Foundation was among the first private philanthropies to make a big bet to address climate change, first with a $500 million multi-year investment in 2008 toward efforts aimed at mitigating climate change—in particular, the adoption of policies that limit annual global greenhouse gas emissions—which was followed by another $350 million commitment to augment and extend the work.
The foundation has focused on the pathway of achieving sexual and reproductive health and rights since its inception, continuing to connect the deep social, economic, and developmental impacts this area has on women and girls' chances for success and wellness. And with Larson at the helm, the foundation is working to ensure all children have access to early learning opportunities and a healthy course forward.  
"Ms. Larson has dedicated her career to addressing some of the most pressing public health challenges of our time and ensuring opportunities for collaboration and advancement of health for so many communities," says dean of the UCLA Fielding School of Public Health, Dr. Jody Heymann. "I'm thrilled that Ms. Larson—a powerful example of all that is possible for our graduates to achieve—has agreed to deliver this year's Fielding School of Public Health commencement address."
Larson's professional path in public health began with her interest in the rights of children, particularly those who had been abused or neglected. While she was in law school the Education for All Handicapped Children Act took effect and, after a clerkship for the Honorable Warren J. Ferguson of the U.S. District Court of the Central District of California, she worked with a nonprofit agency in Los Angeles for two years training parents how to advocate for the rights of their children under the new law.  
Larson's numerous accomplishments in the philanthropic sector were recognized by the Council on Foundations in 2016 with their highest honor, the Distinguished Service Award, which "celebrates visionary leaders who embody those inspirational qualities that define excellence in philanthropy—commitment, courage, entrepreneurship, and impact."
The UCLA Fielding School of Public Health commencement ceremony will be held at UCLA's Royce Hall on June 15. The ceremony, which is scheduled to begin at 5:30pm PDT, can be viewed publicly via livestream.
---
The UCLA Fielding School of Public Health, founded in 1961, is dedicated to enhancing the public's health by conducting innovative research, training future leaders and health professionals from diverse backgrounds, translating research into policy and practice, and serving our local communities and the communities of the nation and the world. The school has 650 students from more than 35 nations engaged in carrying out the vision of building healthy futures in greater Los Angeles, California, the nation and the world.